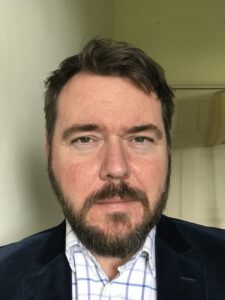 Mr Mark Herron MB ChB FRCS (Tr&Orth)
Mark Herron qualified from Birmingham University Medical School in 1991. He trained in surgery between Birmingham and Bristol prior to Orthopaedic Specialist Registrar training on the West Midlands rotation. He was awarded the FRCS (TR & Orth) in 2000. His sub-speciality training in Foot and Ankle Surgery was with Mr Roger Atkins at The Bristol Royal Infirmary, Mr Michael Stephens at the Cappagh and Mater Misericordiae Hospitals in Dublin and Mr Paul Cooke at The Nuffield Orthopaedic Centre in Oxford. He was appointed a Locum Consultant in Oxford in 2002 before taking up a permanent Consultant surgeon post at the Royal Orthopaedic Hospital in Birmingham before resigning in late 2007.
Mark Herron setup the Foot and Ankle Clinic at the BMI Priory Hospital in Edgbaston, Birmingham in 2004. He had expanded his practice to Spire Sutton Coldfield and the Wellington Hospital London but now focuses his time clinically at the Priory Hospital Edgbaston and the Fortius Clinic London.
His first educational website, The Foot and Ankle Clinic, was launched in 2004 and continues to provide high quality patient orientated information. The Foot Surgery Atlas was relaunched in March 2017 and was squarely aimed at healthcare professionals involved or interested in the practice of Foot and Ankle Surgery. Its new home within Orthoracle is where it is part of an online orthopaedic surgical education platform covering many disciplines of orthopaedic surgery. There are now 7 atlas's and just under 500 operations, take the tour to understand the website USP.
Visit The Foot and Ankle Clinic to make an appointment to be seen in Edgbaston Birmingham. The Priory Hospital appointments line is open from 08:30am and can be contacted on 0121 446 1630. Alternatively email queries@thefootandankleclinic.com
Email the London office on londonclinic@londonclinicallegal.com with your contact details. Someone will get back to you before the end of the business day. Mark Herron is in London once a month at the Fortius Clinic, Marylebone, London.
Visit Orthoracle if you are a medical professional interested in online orthopaedic surgerical education. Follow @orthoracle and #orthoracle for the latest publication news. If you are part of an Orthopaedic Association do get in touch via the website contact form to discuss our special rates.